Some recent posts at the 37signals Product Blog:
New Features
Basecamp: More storage space for the same price
We increased file storage space for Personal through Premium plans. Personal plans now get 1 GB (up from 250 MB). Basic plans now get 3GB (up from 500 MB). Plus plans now get 10 GB (up from 3 GB). Premium plans now get 20 GB (up from 10 GB)
New Highrise Feature: Bulk Delete
We pushed a new feature that makes it possible to delete multiple contacts at once.
Highrise: Improved import review and deletion
We pushed a new Highrise feature that makes managing previous imports easier…Now you're able to review your last five imports and delete any one of those imports. This is especially helpful if you imported the wrong people or the data imported wasn't what you intended.
Case Studies
Rails Envy team uses Backpack to organize its podcast
"For each podcast we set up a different page in Backpack with the title as the episode number. From there, we create a note for each story. We add these throughout the week or when we clear out our RSS readers. When it's time to create the blog post about it, it's really easy to go in and copy the headlines and URLs and paste them back in to Textmate (where we have snippets set up to make creating the blog post really easy)."
College senior uses Highrise to manage his job hunt
"Highrise has been the answer to my prayers. I took an hour or two and typed all those business cards into Highrise, and now everyone is searchable, and organized by company. I have all their contact information right there. In addition, the email dropbox feature lets me keep track of all my communications with them, so I can remember what I've said to whom. I also keep notes on people to help me remember them – 'Steve looks like Ronald Regan', 'Rich loves the Saints', etc."
Buzz/Press
Apple profiles customer who saved $70k by using Macs and Basecamp
"The Mac and Basecamp have replaced $70,000 worth of Microsoft software and related equipment. 'We pay a few hundred dollars a month for an unlimited version of Basecamp,' says Carroll. 'It takes care of Microsoft SharePoint server, Microsoft Project server and most of Microsoft CRM. We've replaced a solution that would have cost at least $70,000 to fully implement and would have required a full-time tech consultant.'"
Online Tech Tips publishes overview of 37signals products
"Small business owners will be able to compete with larger companies and increase employee work productivity. Using each one of the previous tools will almost guarantee that a small business can organize itself with ease. Working with the simple interface of each application and user friendly features makes this suite of applications great tools."
Basecamp named one of the Top 10 most popular web apps
Web App Charts asked people to vote for the world's most popular web app. We're proud to say that Basecamp came in at #9 (others in the top 10 include Gmail, Flickr, and Twittr).
Author for TheStreet.com starts using Basecamp to organize his content-creation business
"I now start my work day by looking at a single page that tells me what has happened over night…Honestly, for a business like mine that manages dozens of assets for dozens of clients, every night and day, the process can be a revelation…After more than 10 years of battling with Outlook to keep my little digital world organized, finally making some progress with a new business tool is big news for me. It will probably be for you too."
Extras
Script lets you export a Highrise note to an HTML file
This Ruby script lets you export a Highrise note to an HTML file.
ThickToast lets you view Basecamp data in an Access database
"It's a simple system to load your BaseCamp XML export/backup into an Access database. The software will load the Project information, replace all the Todo's and Milestones and append the Timesheet and Messages and handle all the other little tables correctly."
Satchel, a Palm OS client for Backpack
Use a Palm or a Treo? Use Backpack too? You're in luck: Now you can access your Backpack account on the go with Satchel.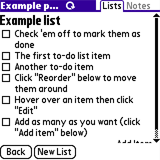 Now available: Version 0.3.0 of Pyre, an alternative Ruby library for interacting with Campfire
Pyre now supports uploading files to a room.